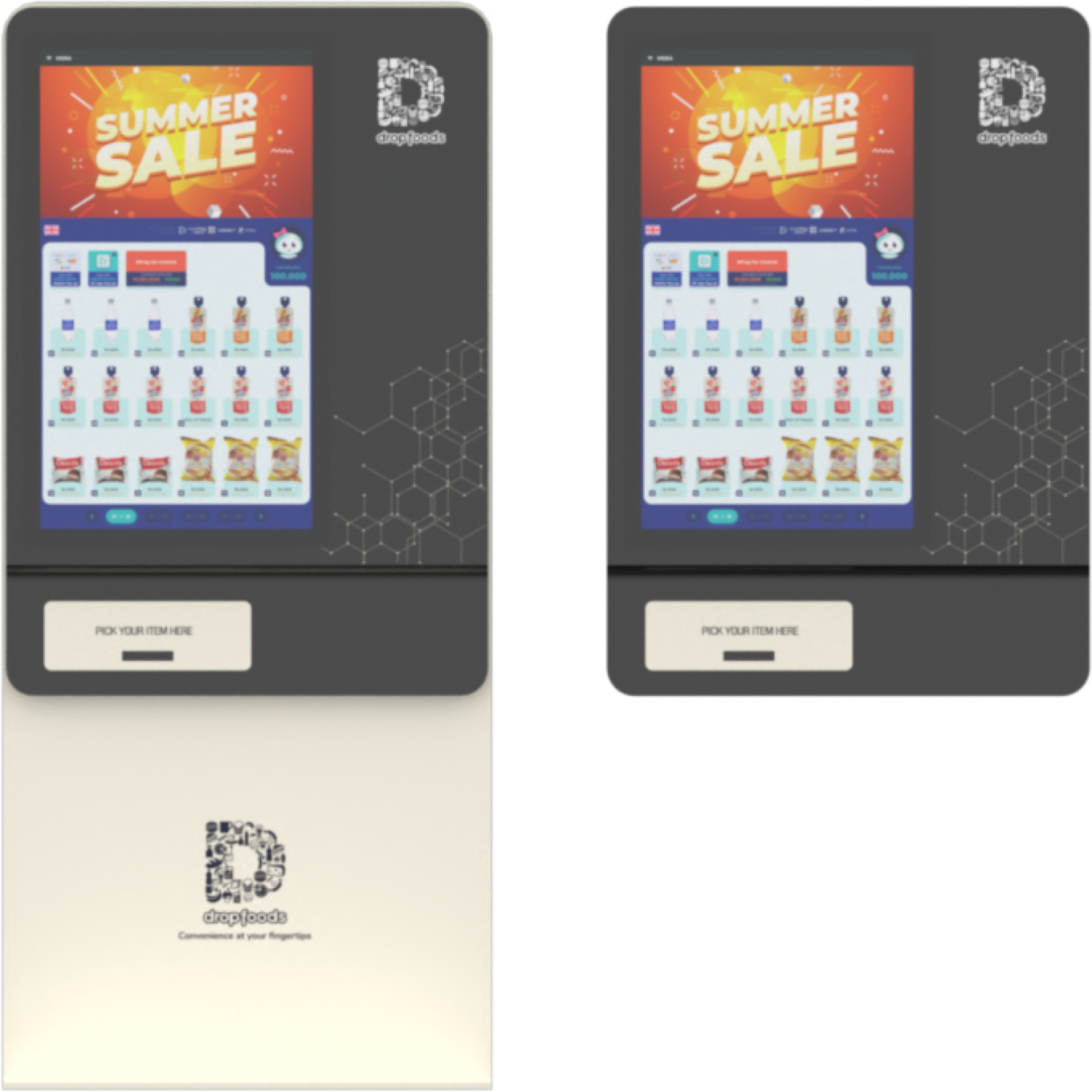 Wall Vending Machine
The wall vending machine is designed with a compact size that can be hung on the wall or stand on standee, suitable for placing in areas such as hotel lobby, shopping mall aisle, exits, retail stores entrance, pharmacy and coffee chains to meet the needs of buying necessary products in a convenient and fast way for customers.
Specifications
| | | |
| --- | --- | --- |
| | Products | 150 products |
| | Size | 700mm x 1000mm x 319mm |
| | Touch screen | 32 Inch |
| | AC/DC | AC 100V-240V - 50Hz/60Hz |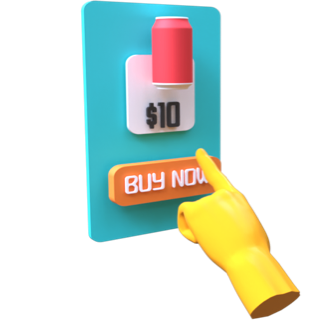 LCD Touch Screen
The 32" LCD touch screen is easy to operate, helping customers to experience a modern and more intuitive buying style.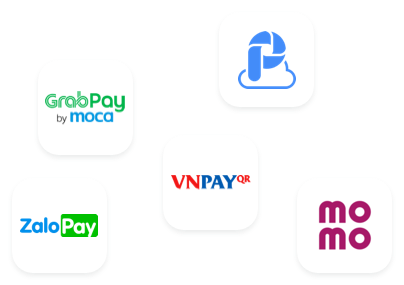 e-Wallet Integration
Make payments quickly and easily with a variety of E-wallets integrated into the vending machine system such as Grabpay by MOCA, VNPAY, and AirPay (ShopeePay).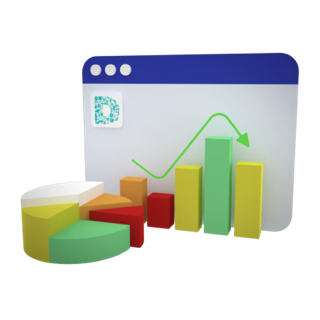 Centralized Data System
Manage sales, inventory, advertising, record technical problems as well as predict maintenance, all through a state-of-the-art data management system. Easy exporting reports and charts help machine business managers save time and effort on operating.
Modern Business Model With Dropfoods Vending Machine
To increase the convenience in the shopping area and meet the needs of buying essential products such as masks, hand sanitizer, chewing gum, souvenirs, etc. quickly and conveniently. Dropfoods provides compact and convenient wall vending machine models but still ensures all the outstanding features of Dropfoods smart vending machines.
Wall vending machine's utilities

Conventional vending machines with large dimensions are sometimes not suitable for some premises and the beauty of the installed area. The wall vending machine with its compact size has solved the installation problem. Investors in supermarkets, retail chains, cafes, hotels, pharmacy chains... can take advantage of wall machines or install them on a standee to create more conveniences for customers while still bringing aesthetic beauty to the interior space.

The wall vending machine is compact but still offers a capacity of up to 150 products. Investors can customize a variety of products to suit their business needs as well as the suitable location of the machine. A 32-inch touch screen with a clear and easy-to-understand interface, making purchases quick and can be used by anyone.

Dropfoods wall vending machines bring a different business solution, adding to the strategic machine model to serve the demand of investors and retail businesses but still want to ensure the compact utility as well as the beauty of the appropriate interior space.


Outstanding features of Dropfoods wall vending machines

The operational data management system is the strength of Dropfoods vending machines. All user data is recorded and statistics when interacting and transacting at the vending machine system. Therefore, Dropfoods machine's investors can easily manage revenue, goods, check capital cash flow effectively with intuitive reports and charts.

With a compact design but offers a capacity of up to 150 products, not less than conventional vending machine models on the market..

Dropfoods has developed the Dropfoods application, which helps customers buy products at the machine more conveniently. After downloading the application, users just need to register information with their name and phone number to buy goods at the wall vending machine without using cash or easily save excess money in their Dropfoods account for the next use.

Phone top-up is one of the outstanding features of Dropfoods wall vending machines. Customers can top up their phones directly at the vending machines or through the Dropfoods apps at any time.

Dropfoods supports diverse payment methods, convenient for users to use: Cash and cash change, Dropfoods apps, E-wallets partners: Grab by Moca, VNPAY, AirPay (ShopeePay), and any other E-wallet if the business wants to add to the machine.

Wall vending machines operate automatically 24/7, always ready to serve customers without the need for staff.

Wall vending machine is a pioneer product of Dropfoods on the Vietnamese market. We always strive to meet the demand of the ever-changing retail industry.